FRIENDLY SAPA HOTEL

Welcome to Friendly hotel . This is a new hotel in older Cau May street of sapa town central . Friendly hotel has 12 rooms , Which are all well equipped with modern and comfortable facilities such as woodfire place ,satellite TV, hair drier , mini bar , phone, wifi , fax... from the balcony of hotel you can see to pansipan top of Hoang Lien Mountain and Muong hoa valley . Within the hotel has a beautiful restaurant with european foods and traditional Vietnamese dishes . Thank you for choosing !
1. Standard room
Standard room is 18m2 large, equipped with working desk, TV.
Room facilities: Slippers, Hair dryer, TV , Bathroom – Shower only, Hot and Cold Water, Table Lamp, Toiletries.
Room type

Bed type

Occupancy

Avg. rate
(per room)

Twin

2 Single

2

USD 15.00
2. Duluxe room
Deluxe room is 22m2 large, equipped with working desk, TV and overlooking the Park, Fansipan mountain
Room - facilities: Slippers, Fridge, Flowers, Hair Dryer, TV , Internet in room, Wifi, Bathroom – Private: Shower, Bathtub , Hot and Cold Water, Table lamp, Toiletries, Dressing table, Mini-bar.
Room type

Bed type

Occupancy

Avg. rate
(per room)

Double

double

2

USD 20.00
3.VIP room
VIP room is 20m2 large . VIP rooms have sofa and table, mini-bar, hot-water and bath-tub. Complimentary fruit and water are served daily. All VIP rooms overlooking the Park, Fansipan mountain view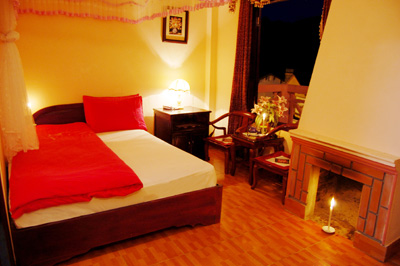 Room - facilities: Computer, Internet in room, Wifi, Slippers, Fridge, Fruit-basket/Flowers, Sofa, Hair dryer, TV – Cable/Satellite, Bathtub, Bathroom – Private: Shower , Hot and Cold water, Table lamp, Coffee/Tea-making facilities, Toiletries, Dressing table, Mini-bar, Welcome-Drink / Fruit-basket/.
Breakfast
Room type

Bed type

Occupancy

Avg. rate
(per room)

Double

Double

2

USD 25.00